Crikey but these fortnights are flying by! It's time for challenge #23 at
Crafty Ann's
already and this time our theme is
monochrome
so I've gone with shades of red. I've used one of the
cupcake
images (adding extra cherries to create the 'candle') and coloured it with promarkers and added some glitter on the icing and the candle flame. The bps are from the
embossed dots brights collection
and the
tartan collection 1
. I've matted the cupcake onto white pearlescent paper and textured gold card using some nesties that I chose as my prize from the Simon Says Stamp sponsored Sketch and Stash challenge a few weeks ago.I've embellished with a
3D short petal flower
that I first painted with twinkling H2Os but it wasn't red enough (too pinky) so I went over it with the poppy promarker that I used on the cupcake and the effect is really lovely! There's still some of the shimmer showing and there's a real depth of colour with the combination - I think I'll be doing that again. I added the flourishes cut from some of the white pearlescent paper to finish it.
My card has also been inspired by these challenges:
Thank you for dropping by today, I hope you'll pop over and join us for this challenge.
Before I leave you today, I want to tell you about a new monthly blog hop: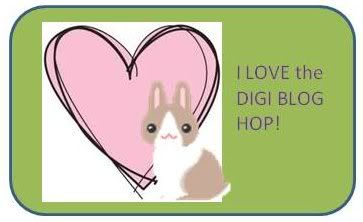 If you love digis, you'll love this! There are some lovely inspiring blogs to visit and lots of fun to be had - not to mention a bumper pack of digis to be won - including one from yours truly! Why not pop over and join in the fun of our very first hop? Just click on the picture and it will take you straight there.